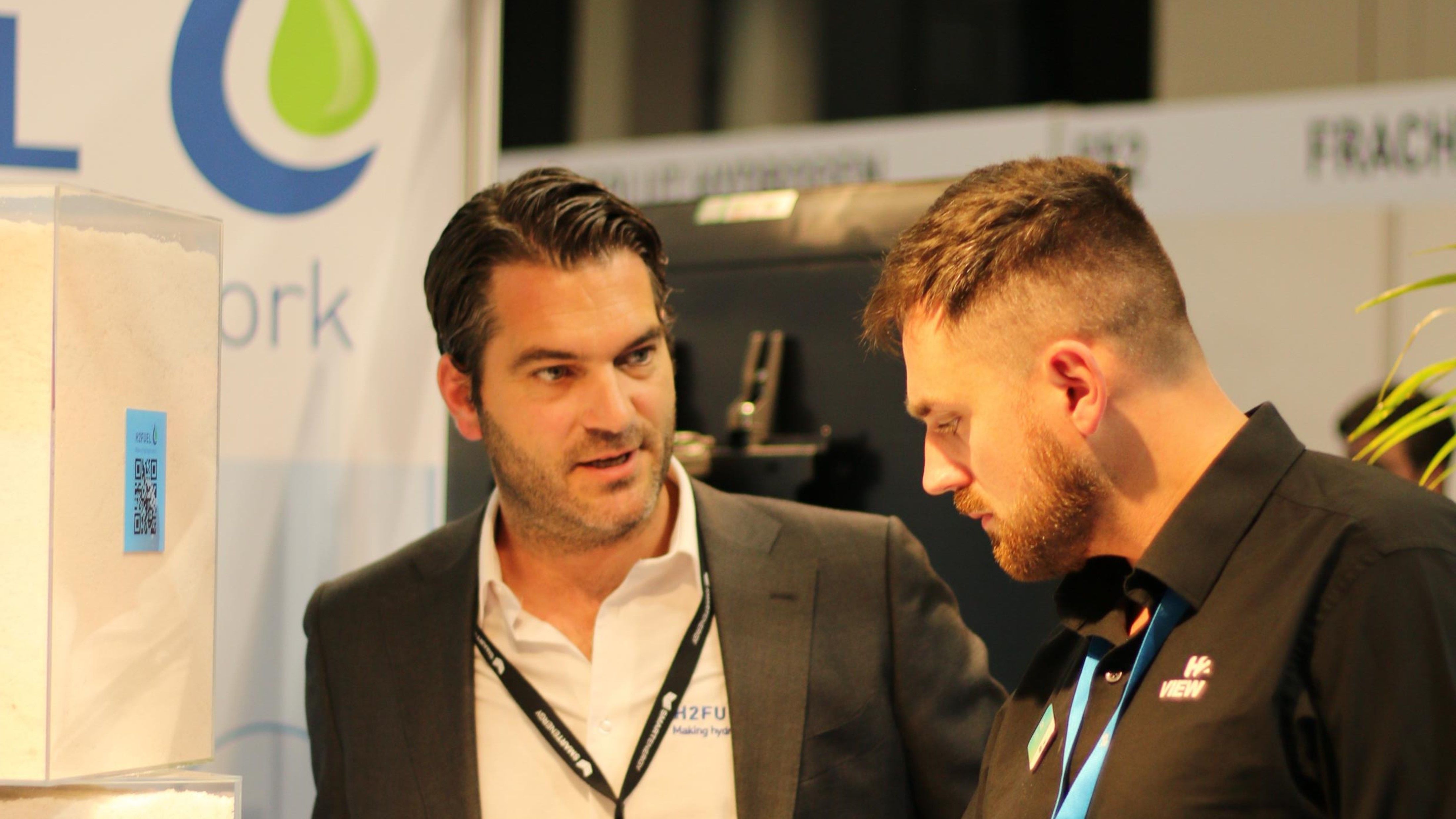 Great excitement at World Hydrogen Summit
Our H2Fuel team experienced two incredibly interesting days during the Hydrogen Summit in Rotterdam.
Our H2Fuel team experienced two incredibly interesting days during the Hydrogen Summit in Rotterdam. Hydrogen experts from over the world visited Ahoy to get all the latest on hydrogen developments and our stand has been buzzing from start to finish.
We clearly made an impression with our daring slogan: 'H2Fuel - the missing piece in the hydrogen puzzle'.
H2Fuel truly is the missing piece. As our hydrogen carrier solution in a powder is so safe and easily implementable, we can start full scale adoption of hydrogen in the global economy tomorrow already. Visitors were impressed by such bold statement, but the Summit and its expert audience gave us the opportunity to explain why this is not such a bold statement after all.
As described on our website in more detail, the advantages of our hydrogen carrier are clear: sodiumborohydride has approximately the same energy density as diesel (86%), is non-explosive nor toxic, can be transported and stored at atmospheric conditions, there is no need for new or special logistics or infrastructure to transport it around or store it, its hydrogen is released exothermic, so no need for any energy input, its hydrogen "on demand" and its purity after release is high (99.8%) and ready to be fed straight into a fuel cell.
As amazing as these benefits are on their own account, what makes our patented release process so extra special, is its high energy density. Our original amount of hydrogen stored in the carrier is doubled during its release as a result of the specifics of our release process. This effectively means that for example one (1) kg of hydrogen stored in the sodiumborohydride delivers two (2) kg of hydrogen during its release process.
On top of that, we have succeeded in making the hydrogen carrier fully circular after its hydrogen release, hence reducing costs further and adding to its sustainable character. Quite mind-blowing if you consider the potential of this powder.
Imagine the possibility of a global green hydrogen transportation network without the necessity of making high costs for safety, transport, storage and release, starting tomorrow. Produced for example in the Middle East, Morocco or Australia, large quantities can be shipped in containers or bulk to harbours in the US, Europe or Japan. After arrival, the hydrogen can be released centrally for local use or the hydrogen carrier can be stored and/or distributed elsewhere using inshore shipping, cargo train or trucks.
Alternatively, any overcapacity from an electricity grid for example can be used to produce the sodiumborohydride and released at a later stage to create energy from the hydrogen release. Indeed a very clean, efficient and cost-friendly alternative to the currently considered carriers.
H2Fuel as an energy carrier, with the aid of its widely implementable release and regeneration process which can be adopted by the industry and end-users to replace fossil fuels in any form imaginable, as well as back-up for contingency use. Think of the immense positive impact this powder can have on the environment.
Our story of course very much appealed to our stand visitors, convincing them that our technology truly has the potential that we envisage. Since last week we have received a lot of requests and invitations to discuss options to share knowledge, cooperate, contract or invest. This Summit has put us into the next level to develop its full potential.
We are very excited to take the next steps!
H2Fuel makes it possible:
GREEN POWER PRODUCED ANYWHERE, BECOMES AVAILABLE EVERYWHERE!
Related News
Our H2Fuel team experienced two incredibly interesting days during the Hydrogen Summit in Rotterdam.